From concerns about plastic waste and love with Sa Dec traditional rice flour village (Dong Thap Province, VN), Mr Pham The Hai (born in 1984) has created unique rice straws.
Mr. Pham The Hai, Director of Green Starch Joint Stock Company who is an electrical engineer, used to have his own company in Ho Chi Minh City. One year ago, Mr. Hai made a surprise to many people when decided to stop everything in Ho Chi Minh City and returned to his wife's hometown in Sa Dec to start up with… rice straws.
Picture 1: Mr. Pham The Hai – Director of Green Starch Joint Stock Company.
Mr. Hai also admitted it was a challenging and risky move: "At that time, i do not know anything about rice flour, process of making rice flour and how to make rice straws? Everything with me is zero". But he quite have had reason to make this decision.
Mr. Hai is interested in living environment, especially the environmental pollution from plastic waste. Upon the Government made encourage and called whole the society to say no to plastic waste, it seem to be urged him to learn about this issue.
According to statistics, Vietnam is one of five countries with huge amount of plastic waste discharged into the environment every year, up to 1.8 million tons. Plastic straws take about 500 years to decompose, meaning that many generations of children will take the consequences of plastic waste pollution nowaday. Each plastic straws that humans discharged can kill so many ocean creatures and fact that humans are sucking up the life of the ocean because of using disposable plastic, including plastic straws.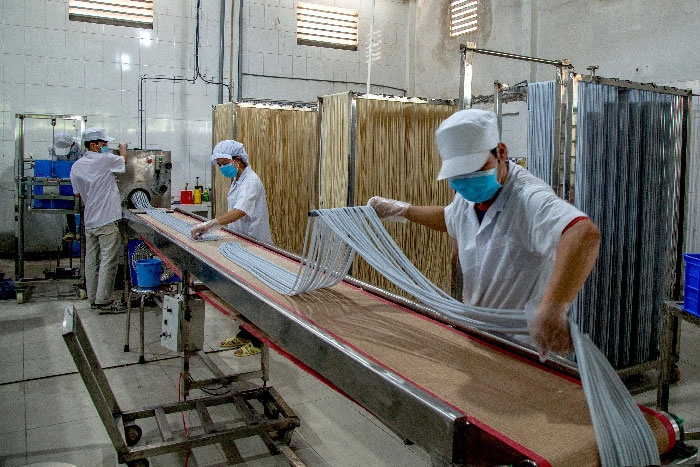 Picture 2: Rice straws manufacturing
With Sa Dec traditional flour village, the rice flour of the flour village is mainly supplied like raw material to bakeries, noodles, pho… The product value is not really worthy of a The flour village has a tradition of hundred years, the quality is famous not only in Vietnam.
Everyone in the flour village is very good at their craft, the product is so special that no other rice flour can match with the incentives of nature here. But how to preserve and maintain the traditional values inherent in the this village and how to make the products that have more commercial value, go further, help people "live well" … is what Mr. Hai has concerned when talked with people in this village. He said that he loves this traditional village like he has given his full love to his wife from time to time.
With positive signals of the market for eco friendly products, Mr. Hai has come to a decision as the turning point of his life: Stop working in Ho Chi Minh City, return to Sa Dec to stick with rice flour village.
The biggest difficulty Mr. Hai was facing that he did not know anything about rice flour, about how to make straws from rice flour. But "unknown" does not mean "cannot know", especially for young and enthusiasm people.
In order to understand about rice flour, the process of making rice flour, how to make quality rice flour and rice straws processing… Mr. Hai spent so many time for learning. Not long after that, rice straws from rice flour with Fuma brand of Green Starch Joint Stock Company was born.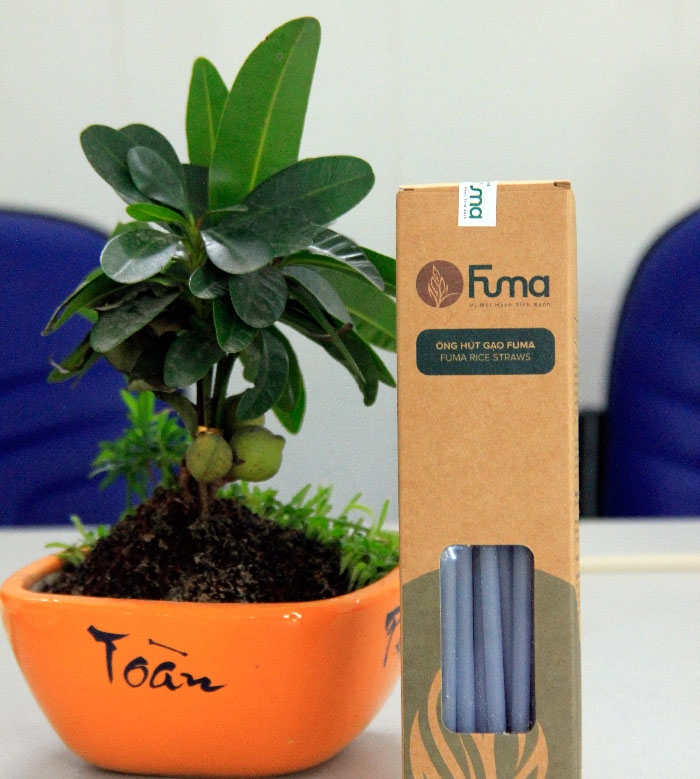 Besides the initial difficulties, Green Starch Joint Stock Company has some advantages that nowhere has.
First of all is high quality and abundant of rice flour raw materials from Sa Dec rice flour village because that Fuma was located in the center of this village. Rice starch after being made will be transferred straight to the rice straws making area. The company will save transportation costs with the freshest and highest quality ingredient to make the straws are quality, smoother and more beautiful.
The second advantage is that company receives maximum support from the local government about legal procedures, trading connection event, encouragement and create all favorable conditions for the Company to operate and produce the products. That is also the reason why the Green Starch Company can be established, deployed and finished the factory in only within 3-4 months.
In order to straws with variety of colors while still ensuring the 100% natural, Fuma uses plant colors to make the color of straws. Gac fruit color to make orange, butterfly pea flowers color to make blue, cam leaf color to make purple, gardenia seeds to make yellow.
Mr. Hai said that the company bravely invested in closed equipment and technology for production. He truly believes in the potential of eco friendly product market.
"The world has been using plastic straws for a long time and they have been looking for alternative products like straws made from bamboo, reed or rice flour. Recently, the Government of Vietnam has encouraged to less plastic waste, use eco friendly substitutes, so the demand of the market is huge, not only domestically but also abroad. Recently, there have been some foreign partners coming to Sa Dec flour village, wishing to combine with us to bring the rice straws of Sa Dec flour village to the world market" Mr Hai said.
Currently, the company's products not only supplied in domestic market but also exported to France, Poland, Australia, Newzealand and some country in South East Asia …
According to some feedback from customers, Fuma has received very positive feedback from consumers. It is really interesting with the straws made from rice flour with eye-catching colors from vegetable color. After using it can chew and enjoy the gentle aroma of rice starch. And most of all, when choosing a rice straws, we have contributed to environmental protection, building a green world as Fuma is being toward.
In pricing, one rice straws has a price ranging from 200-800 VND depending on the type of straws, his company is also step by step to improve the technology to make the price more competitive.
In order to grow stronger in the future, Mr. Hai is focusing on researching eco-friendly products to replace other plastic products such as spoons, plates, cups … Along with that, the company is also improving technology. to maximize automation to increase output while ensuring the best quality for customers.
Hopefully, with the positive signals of the market, we will have more products such as rice straws will be born, to contribute to preserving the value of rice flour village and preserving the beautiful green life.
Under normal conditions, rice straws can be stored for 12 months. The rice straws keep in normal water and cold water about 60 – 120 minutes. The rice straws is completely biodegradable into natural environment, without any affecting to the environment.
Follow L. Truc from Petrotimes